Our Commitment
Premium quality that is good for you and the planet.
Affordable Quality
Laurette is committed to providing excellence and sophistication to every customer, all while remaining affordable and fun.
Made In the EU
Over 1300+ harmful ingredients banned. Sulphates, parabens, phtalates. All gone for good.
Ethically Sourced
Supporting local farmers withing Europe.
Proven efficacy
Only ingredients with effective results.
Gentle to everyone
Fun for everyone during bath time
All our bath and body products are not only fun and colorful, but they also protect the skin of your beloved little ones.
Our Classic Bath Bombs contain organic almond oil to keep your little one's skin hydrated and silky-soft. They also contain a little surprise inside. The mini soap has different shapes and sizes to make bath time extra fun. The mini soap is skin pH-neutral and preserves the natural skin barrier of your child, while still being fun to play with. Store the soaps in a dry place until the next bathtime adventure.
How are Laurette products so vibrant and colorful? Thanks to our ethically sourced essential oils and zinc oxide. The blend of these natural ingredients does not only give our products a lively color, they also protect from UV-damage as zinc oxide can absorb UV-rays. It is popular in mineral sunscreens.
Classic Bath Bomb
With a surprise inside
Only the best for our little ones.
From €4.50 / 250g
No Microplastics
Preserving our environment
Our scientists pushed the boundaries when creating our all-natural formulas. All our products are plant-based with pure essential oils, which are distilled from the fruit or plant itself. We never use synthetic fragrance since this compound lacks transparency and may cause severe irritations to the skin.
 Microplastics are small pieces of solid plastic that are not biodegradable. None of our products contain any ingredients containing microplastics. Instead, we use natural alternatives such as sea salt and magnesium salts to give every customer the confidence of not contributing to polluting the environment.
100% Natural
Our products aim not only to give you a sensorial experience. They are also designed with the planet in mind. It is our mission to keep our supply chain as short as possible, every step of the way.
100% natural origin
From A to Z, including our preservatives. Readily biodegradable is the new standard.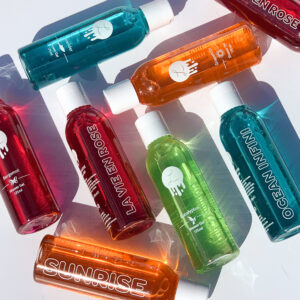 Natural color
Derived from essential oils and natural zinc oxide.
Sustainable Packaging
All our packaging is made from 100% recycled materials and FSC-certified sources.
Zero waste
A new level of recycling
We went the extra mile to preserve our most valuable resource, the earth. Through optimizing our products and packaging, we are able to recycle and reuse our packaging for an infinite amount of times.
How do we achieve this?
LEFTOVERS: With every production, there is leftover product. Instead of throwing it away, we put it aside and incorporate it in our next batch or make free samples of it for our customers to try during our live shopping events.
CARDBOARD: Depending on its size, we reuse our boxes for our retail partners or we shred the boxes to pieces and use the refined flakes for buffer material during order fulfillment.
EMPTY PRODUCTS: Bottle empty? Get yourself a refill or trade in your empties in stores or at our live shopping events. 
Your bottle is cleaned and refilled for the next happy customer. 
Received one of our gift sets? Put your personal belongings in our keepsake box to give them a second life. 
These are just some of the many ways we reduced our waste to 0%.
Concentrated formulas
Using less is saving more
All our liquid products, including our body washes and hand washes are concentrated formulas. They do not contain added water like traditional brands do to save costs.
Did you know our 100% natural products are not more expensive that 'that cheaper' shower gel at the supermarket or beauty salon? Thanks to our concentrated formulas, our body- and hand washes can save you a lot of money. You only need one pump per wash.
Are you in love with our French Lavender Hand Wash?
For only €3.25 per month, you can enjoy relaxed hands all year long.
Can't get enough of the fresh notes of our Austrian Eucalyptus Shower Gel? You can enjoy revitalizing showers all year long for just €2.08 per month. 
Love to take an energizing shower every day? Our reusable Grapefruit Shower Steamer comes in at just €0.50 per use and lasts for 20 showers. 
That's less expensive than all steamers on the market.
Shower Gels
Detergent-Free
Infused with essential oils for a natural scent and color.
€15.00/ 175ml
Dermatologically tested
All our products are not only caring for the environment. They are also kind to your skin. We are proud of our extraordinary creations.
Pharma Approved
Discover Laurette at a pharmacy near you.
Parfum-Free
Protects your skin from inflammation and irritation.
Hydrating Ingredients
Effective plant extracts and oils.
Low Foaming. Long Lasting.
Protect your skin barrier all-year long
Our products are made without synthetic detergents to decrease the chances of creating a dry feeling on your skin. Love foam anyways? Use a konjac spunge or a loofah to create a plant-based foam cloud with creamy bubbles. Our sunflower oil will leave your skin silky-soft after every shower.
All of our liquid products are very concentrated thanks to their efficient ingredients. Did you know you only need one pump for a complete wash?
Our 175ml bottles are good for 144 washes.
Our 550ml format is good for at least 455 relaxing hand washes. That will last you for more than a year.
Hand Washes
One Year Challenge
How long does your bottle of Laurette Hand Wash last? See how long you can go with just one bottle.
€39.00/ 550ml