Quality
Laurette is committed to providing excellence and sophistication to every customer. From our bespoke and sustainable packaging to our handcrafted creations, quality can be found across the entire Laurette brand.
Made In the EU
Over 1300+ harmful ingredients banned. From parabens to phtalates. All gone for good.
Ethically Sourced
With help from our local suppliers.
Handmade Craftsmanship
Our products have a custom decoration made by artisans in our atelier.
Natural without microplastics.
Our scientists pushed the boundaries when creating our all-natural formulas. All our products are plant-based with pure essential oils, which are distilled from the fruit or plant itself. We never use synthetic fragrance since this compound lacks transparency and may cause severe irritations to the skin.
 Microplastics are small pieces of solid plastic that are not biodegradable. None of our products contain any ingredients containing microplastics. Instead, we use natural alternatives such as sea salt and magnesium salts to give every customer the confidence of not contributing to polluting the environment.
Creativity
Our products aim not only to give you a wonderful experience. They are also designed with the planet in mind. It is our mission to keep our supply chain as short as possible, every step of the way.
100% natural origin
From A to Z, including our preservatives. Readily biodegradable is the new standard.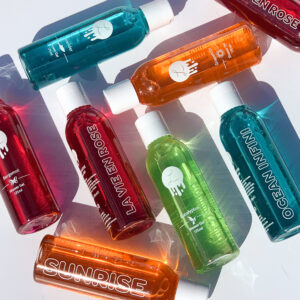 Unique Creations
Ordinary products with extraordinary ingredients. Meet our Skin Purifiers and detergent-free shower gels.
Sustainable Packaging
All our packaging is made from 100% recycled materials and FSC-certified sources.
Natural preservatives.
Preservatives are solid or liquid substances that extend the shelf life by preventing the growth of yeast, mould and bacteria. Preservatives are necessary to keep both your health and our product safe, especially when they last a while. Since launch, we opted for natural preservatives. They are either directly derived from plants or made from natural processes.
The use of preservatives is strictly regulated within Europe to guarantee both quality and safety.